Looking after Yourself
There is a lot of uncertainty around the current COVID-19 outbreak, particularly given that the situation is constantly developing and the information about the virus remains incomplete.
Understandably, this is causing a lot of worry and anxiety for people. Having children and young people at home, often when people are trying to work themselves, adds another layer of stress. It is therefore important to not only consider our physical health during such challenging times, but also to pay attention to our mental health. It is normal to feel worried, stressed and anxious when we are faced with uncertain situations, but the sooner we acknowledge and learn to take care of our mental health, the healthier and better equipped we'll be to cope with the situation we're having to face. Click here to view 'The Wirral Plan' and suggestions for parents.
Support with Mental Health
Support from CAMHS (Child and Adolescent Mental Health Services):
The new 24/7 mental health helpline is open to people of all ages who require urgent support and are residents of Wirral.
If your mental or emotional state quickly gets worse or deteriorates, this can be called a 'mental health crisis'. In this situation, it is important to get help quickly.
Please call 0800 145 6485 and CAMHS' dedicated local staff will support you to access the help you need. The phone line is free to call, open 24 hours a day, seven days a week and is open to people of all ages – including children and young people.
It is now the first port of call for mental health help – it is operated by people in your local area who will know how best to support you.
You should still call 999 or go to A&E if you have an immediate, life-threatening emergency requiring mental or physical health assistance.
NHS Mental Health Helpline
April 2020: There is a new Mental Health crisis helpline available for people of all ages, including children in Wirral, to call if they need urgent support. The helpline is open 24/7 and is staffed by dedicated, mental health professionals. Please call 0300 303 3972 if you require support.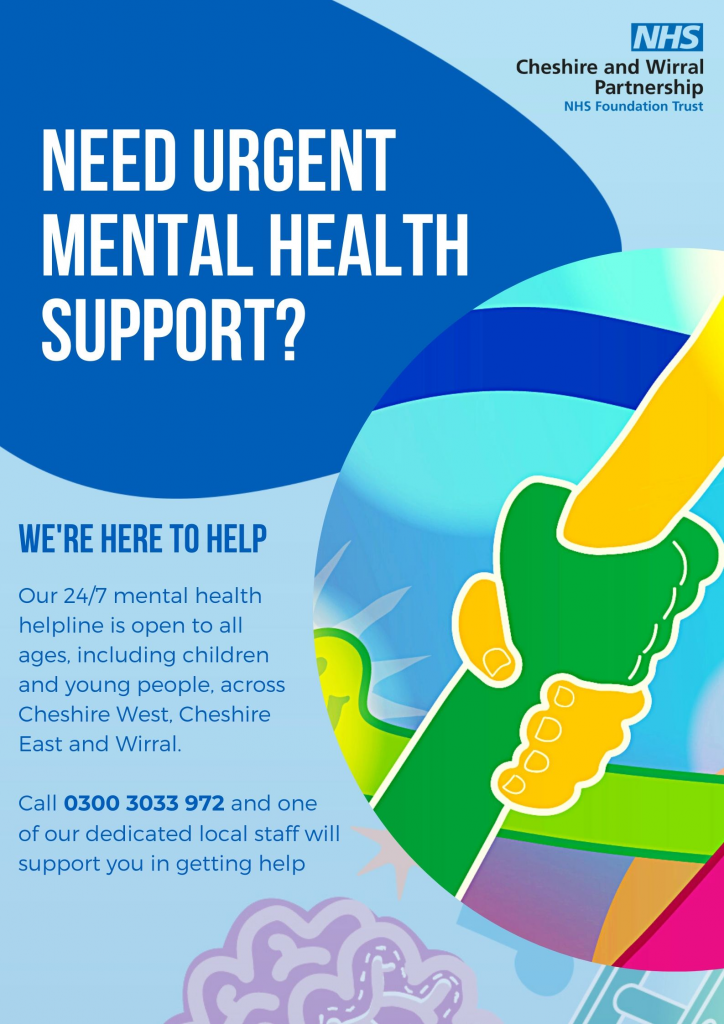 My Mind
The My Mind website www.mymind.org.uk has various resources, self- help guides and information on local services. They have been updating the website to include resources specific to Covid 19. Also on the website is a self-referral form should you wish to refer your child into CAMHS. You can also still refer via any other professional (GP, social worker, school).
Coping with Covid-19 – https://www.mymind.org.uk/coping/coping-with-covid-19-coronavirus/ Useful advice on the following:
Transition back to school: Resource for children and Young People
Other helpful mental health resources:
How families can cope with self-isolation
Coping with Coronavirus and Living in Lockdown
Covid 19 – Tips for autistic people and families
Coronovirus social story – to help alleviate fears and anxiety
Place2Be resources – Useful information to help you support your child
The Story of the Oyster and the Butterfly – An interactive book by Ana M Gomez to help children and young people struggling with their emotions during this time.
Stay at Home Superheroes – written to help children understand what is happening at the moment and to help them feel empowered and safe during these uncertain times.
Feeling worried about going outside – this story was written especially for them, to reassure them and explain social distancing in a fun, playful way.
Helping Children to cope with loneliness
A guide on how to access support and look after your mental health if you have or are being affected by racism.
A short video for children that may help them in thinking about how they can face some of the worries they're experiencing:
Support from NSPCC – Talking to children worried about Coronavirus- advice if you're worried about your child's mental health and anxiety about Covid-19.
Also tips and advice if you're working from home with children.
Support from Childline – 10 tips to cope during lockdown- https://www.childline.org.uk/info-advice/your-feelings/anxiety-stress-panic/worries-about-the-world/coronavirus/#lockdown
If you or your child is feeling stressed at this difficult time please visit the Childline Calm Zone for ideas, activities, games and videos to help you and your child keep calm.
Young Minds
YOUNG MINDS TOP TIPS FOR PARENTS
Young Minds mental health and self isolating
Thumbs Up
Mental health support throughout Wirral and the UK, delivered through Facebook Live streaming at regular intervals over the time the schools are closed. Please click here to be redirected to their Facebook page.
Resources from Educare
Educare are providing free support for parents/carers on a range of topics including:
Dealing with Bereavement and Loss
Mental Well-being
Food Hygiene and Safety
Low Mood and Depression
Healthy Lifestyles
Changing Bodies
Understanding Anxiety
They can be accessed at https://www.educare.co.uk/edusafe-pc
Resources from Gov.uk
The government acknowledges that the order to stay at home can cause anxiety for those who are experiencing or feel at risk of domestic abuse. There is never an excuse for domestic abuse, no matter what the circumstances are.
Gov.uk has written guidance including Covid-19 support for victims of domestic abuse:
covid-19-support-for-victims-of-domestic-abuse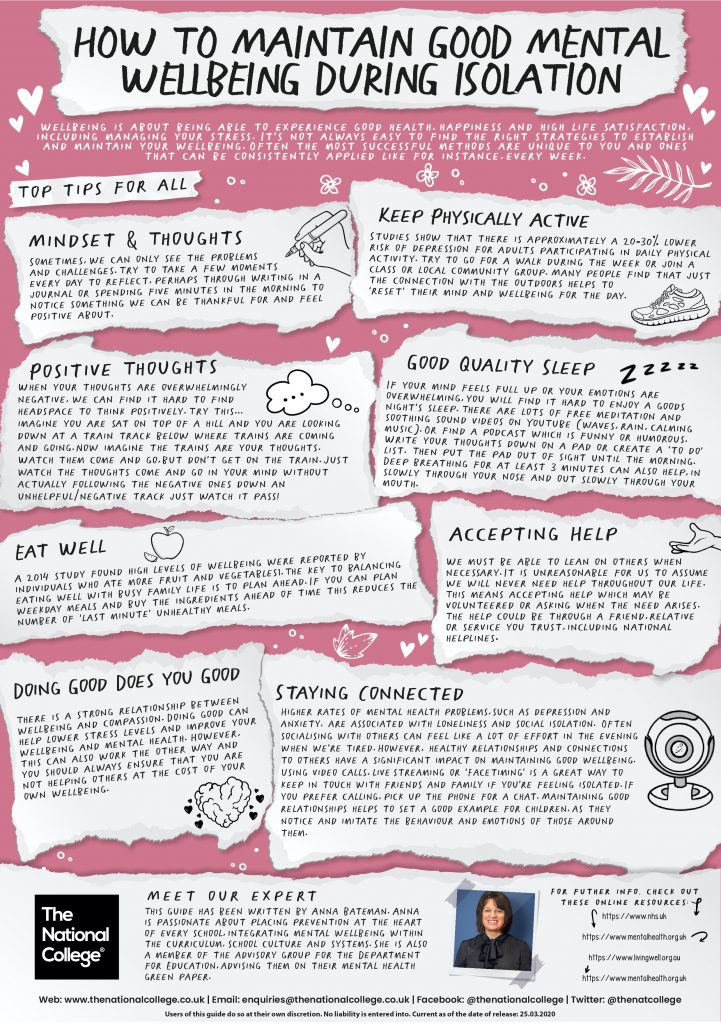 The Book of Hopes: Words and Pictures to Comfort, Inspire and Entertain Children in Lockdown.
Completely free for all children and families, the extraordinary collection of short stories, poems, essays and pictures has contributions from more than 110 children's writers and illustrators, including Lauren Child, Anthony Horowitz, Greg James and Chris Smith, Michael Morpurgo, Liz Pichon, Axel Scheffler, Francesca Simon and Jacqueline Wilson.
The collection, published by Bloomsbury, is dedicated to the doctors, nurses, carers, porters, cleaners and everyone currently working in hospitals.
Click the book below to read: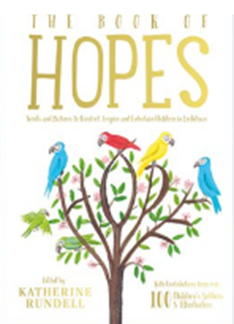 30 Day Coping Calendar
Try to also choose an activity each day to complete from the coping calendar below:
Bereavement during lock down
Coronavirus – Supporting Bereaved Children
Coronavirus – supporting pupils (childbereavementuk.org)
ELSA
We have put together some resources from our ELSA (Emotional literacy support assistants) programme we use in school. Please click on the links below for activities to help support your child's well-being at this difficult time:
Below is a link to 14 days of activities for your children. Each activity is hyperlinked to a resource on the ELSA Support website. If you click the BLUE TITLE of each activity it will take you to a page on the ELSA website.